How do you decide on a wedding theme?
Wedding themes provide ways for brides and grooms to express their tastes, style as well as personality. For couples planning their big day choosing a theme can be quite a harrowing experience. This guide will help you through those tough times. There are several theme ideas to choose from, ranging from venue-based and couple-centric to location based and themes based on design elements, among others. Here are some great wedding theme ideas for your upcoming wedding.
Themes based on the Couples
A wedding theme can be based on a couple's best traits. Hobbies and interests can be spun into great themes for weddings. For instance, a couple that loves soccer can feature their favorite team in their football themed wedding. The cakes can be in the design of a soccer ball with the team's logo engraved on it. Those who love travelling can design their wedding invitations to resemble  passports and have the destinations they have visited featured in it.
This couple had a Star Wars related theme! How fun!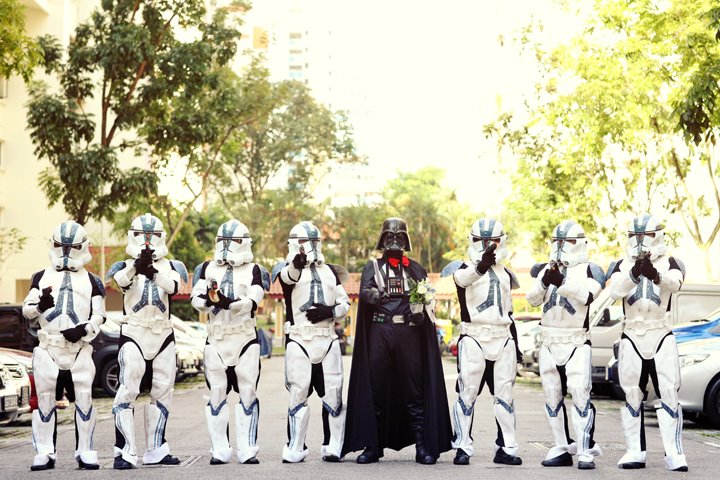 www.iliketowastemytime.com
Themes based on Wedding Venues
With venue-based themes, venues that appear boring can be decorated for elegance and class. With the wedding venue in mind, choosing a theme is a walk in the park. For instance, a wedding set to take place near a beach would take a beach theme and be decorated to either match or contrast the surrounding environment with a beautiful touch.
 This is a beautiful naughtical theme, courtesy of Chancey Charm Weddings
Themes based on Location
The wedding location can also help determine a suitable theme. Weddings scheduled to take place in Las Vegas feature various colors such as white, red, dice, glitz as well as black. If it is designed to take place in Miami, Florida, pastel hues, palm trees and art décor will do. Modern weddings in New York would feature aesthetic architectural details as well as white and black color hues.
These green hues would be great from a celtic, Irish wedding. Absolutely stunning.
 www.daweddings.files.wordpress.com
Seasonal Themes
Spring, summer, winter and autumn comprise the major seasons in a year. The season when the wedding is set to take place can influence its themes. Most brides and grooms prefer summer to other seasons for their weddings. Colors come in handy when choosing themes based on the seasons. Fall weddings can feature browns and reds, warm golds as well as decorations and favors in autumn themes; summer weddings feature whites and crisp blues, beach and nautical décor while snowflakes, pale hues, icy and glittery decors as well as blues and silver tones would make a perfect winter wedding theme.
http://www.pigeonforge.com
Themes based on Design Components
Elegant yet simple weddings can be based on design elements such as stripes, dots, monograms, flowers or even feur de lis. This theme can integrated into different aspects of the wedding like wedding cakes, invitations, place cards or even favors featuring polka dots. Wedding stationery in UK can also make for perfect items for coming up with a great theme or integrating them into different aspects of the wedding in order to come up with great themes.
burnettsboards.com